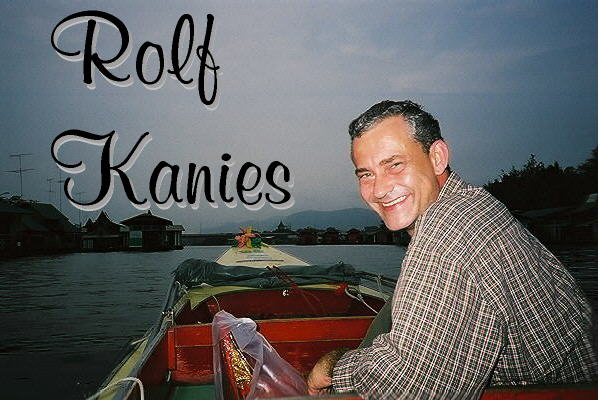 News Bio Links Contact Picture Gallery Deutsch
https://www.facebook.com/rolfkanies.official
Welcome to the English section of rolfkanies.com. Rolf thanks you for your interest and hopes you find the information you are looking for. Deutsch? Klicken Sie hier.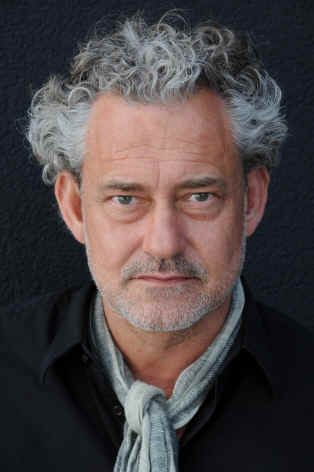 Check out Rolf's Facebook page for the latest news! https://www.facebook.com/rolfkanies.official/
December 19, 2016 - Rolf Rolf wishes his followers a Merry Christmas and a Happy New Year! (More news in January!)
2016 Rolf started out the year shooting in Thailand with Marie Gruber and Veit Stuebner a movie for the German broadcast ARD. The film centered around German pensioners who escape to Thailand, in search of a better standard of living on their limited income.  Director on this show was Florian Gaertner.
2015 The year began strangely with the shooting of "Hitman – Agent 47". It was strange, because that project was already finished. However, the producers of 20th Century Fox decided to change a lot of scenes they had done before. So Rolf had to reshoot the opener of the film. The world premiere was in August in Berlin.
In March 2015 the film "Einstein" was released for German TV and was so successful that the German broadcast station SAT1 decided to make a series out of this subject. Within 3 months 6 episodes were shot in Cologne.  Rolf plays a Chief Detective Superintendent who needs help from a scientist (Tom Beck), a great-great grandchild of Albert Einstein, to solve his criminal cases; on his side again leading actress Annika Ernst as Detective Superintendent Elena Lange.  The director was again Thomas Jahn, who did the camera as well During this shooting Rolf played the third part of "Love Through The Ages", called "Emerald Green", were he portrayed again the evil and mighty William de Villiers; the uncle of the hero (Jannis Niewoehner).
Directors on this show were Felix Fuchssteiner and Katharina Schoede.
In June 2015 Rolf went to Prague for a shooting with the producer and director Paul Donovan who produced "LEXX- The Dark Zone" as well. Rolf played, as in the first season of this series, the same role in "Clay `s P.O.V" for the Canadian broadcast "Super Channel". The hero of this series is Guy Faulkner, the son of James Faulkner .
In a new series for the German broadcast ZDF called " The Specialists – In The Name Of The Victims" Rolf played an interesting main part  with Valerie Niehaus, David Rott and Katy Karrenbauer. (Director: Kai Meyer-Ricks)
Raoul Peck began to shoot his Film "Le jeune Karl Marx" ("The Young Karl Marx") in autumn 2015 and he begged Rolf to play a small but interesting part in his film. Rolf played Moses Hess, a Jewish revolutionist, who had been a mentor of Karl Marx. Amongst others Rolf colleagues were August Diehl, Stefan Konarske and Vicky Krieps.
The last shooting of 2015 was for the German broadcast station ARD, was a second part of " The Diplomat", which was played by Natalia Woerner.
Again Rolf portrayed the Secretary of State, named Kurt Laemmle, who pulls the strings of the operations in Berlin. (Director: Elmar Fischer)
December 3, 2015 Rolf wishes all of his fans a Merry Christmas and a Happy New Year. He is still working and hopes to get this page update in the near future, but in the meantime, check out his new Facebook page for the latest news! https://www.facebook.com/rolfkanies.official/
2014 started for Rolf playing in the Hollywood feature (20th Century Fox)
"Hitman: Agent 47", directed by Aleksander Bach. Unfortunately he cannot tell us about this role as Dr. Delriego because the film is still in postproduction and will be shown in 2015. His colleagues Rupert Friend and wonderful fellow actor Emilio Rivera.
After that he again worked with director Christoph Schrewe in a film was shot in the Czech Republic.  The movie is called "The Golden Coast" (broadcast: ZDF) and it is a historical romance set in 1825 Germany. Rolf played an estate manager who had to deal with the politics of the time as the German peasants decided to rise up and escape to the "promised land" of America. His fellow actors on this set were Volker Bruch and Michael Mendl. The film will be shown in spring 2015 on German TV. This time
During the summer 2014 Rolf stared for the German broadcast station SAT1 for the movie "Einstein".  Actor Tom Beck, a scientist nerd who is the great-great-grandchild of Albert Einstein, helps a Criminal Investigation Department with their investigations. Rolf plays a leading role as Chief Detective Superintendent  Stefan Tremmel ; Actress Annika Ernst joins them for this movie which will be released in the spring 2015.
Afterwards in Berlin were Rolf lives he shot a political movie called "The Diplomat", about the kidnapping of two Germans in Manila. Rolf plays a Secretary of State. This film was shot for the German broadcast station ARD Degeto, and was directed by Franziska Meletzky. His fellow actors were Natalia Woerner and Thomas Sarbacher. As well this movie is also going to be shown in 2015.
Then to wrap up the year Rolf went to Cape Town in South Africa, where he always loves to work. He was reunited with actresses Bettina Zimmermann and Claudine Wilde. Ms Wilde played his wife, an aging, famous actor, who tries to keep his youthfulness by esthetic surgeries and botox. This film was shot for the German broadcast station SAT1 and will also be shown 2015.
2013 was a busy year for Rolf with him having roles in many films and series. He shot the movie "The last trial court" (ZDF German broadcast; director: Carlo Rola), which was shown in spring 2014 on German TV and was seen by millions of viewers.  Rolf played a journalist, which favorite beverage is mainly bear and who tries to find a murderer.
His German colleagues were Stephanie Stappenbeck and Jan Josef Liefers.
During the summer of 2013 he worked again with Director Christoph Schrewe in the mini-series "Borgia", which was shot for the French broadcast canal+ and the German ZDF in the Czech Republic and in Italy.  Rolf played the German astrologist Lorenz Beheim, who has been at Cesare Borgia`s (played by Mark Ryder) command, in three episodes. One of his other colleagues was Manu Fullola, whom we all know from Christoph Schrewes` feature "The Conclave".
In autumn he worked on the feature "Sapphire Blue", the second part of the "Ruby Red Trilogy" (Gerstin Gier), on the Wartburg in Thuringia, Germany.  Rolf played one of the mightiest men of the lodge, a real villain, named William de Villiers; his colleagues were Maria Ehrich, Jannis Niewoehner and Veronica Ferres; this feature was directed by Felix Fuchssteiner and Katharina Schöde.
"Sapphire Blue" has had its first night in Cologne in autumn 2014 and was received so successfully that the third part, "Emerald Green", is going to be shot in spring 2015.
November 11, 2012 - Rolf's year was again full of wonderful and interesting work. He worked on eleven projects, all of which he enjoyed very much. He even got to do a play on a cruise that started in Luebeck then went to Tallin, St. Petersburg and Helsinki. His part was that of a surgeon in a German crime play called, "Mission in Hamburg".
This summer Rolf was shooting a mini-series called "One Thousand and One Nights" that was filmed in Tunisia. He played the Caliph, the father of Scheherazad for the Italian broadcast company RAI. The shooting was exiting for Rolf because he got to work with some great German colleagues of his: Bettina Zimmermann and Stipe Erceg, as well as many others from Italy, Turkey and America. While debuting in Italy on November 26, the series was shot in English and will should eventually be shown in many other countries.
Rolf once again guest stared in the television show "Wilsberg", but this time a scatterbrained policeman in a small German village, who loves to drink. (Ed. Note: Wilsberg is a German crime drama that has been on the air since 1995.)"
Another interesting project Rolf was involved in was a film about a famous actor of the last century named Heinrich George, the working title of the movie is "George". Rolf played Ernst Stahl-Nachbauer, a colleague of George. The film explores the question about how deep this great actor was involved in the Nazi Regime. The film was directed by Joachim Lang and the part of Heinrich George was played by his own son, Goetz George, who is a famous actor in Germany.
Rolf then played an old Russian author in a short film by Marc Wagenaar, a young director from the Netherlands. This film, "The Southside of Misery" will make its way through international film festivals next year. (Production Stills, under the title "The Southside of Misery" at http://www.stefanmohn.com/ ).
A first occurred this year, Rolf shot his first commercial. This Public Service Announcement was created by Danish film student Daniel Kragh-Jacobsen, who is studying in LA. The suicide awareness spot, which targets the need for young adults to talk to someone, managed to get the Award for "Best Young Director" at the Lions Festival in Cannes and was short listed as "Best Test Commercial". It can be viewed at several sites including: http://danielkraghjacobsen.com/commercial/frnd/ http://youtu.be/WtGzUoxXzq8 http://www.frnd.de/social-spot-"talk-before-its-too-late-fur-"freunde-furs-leben-e-v-gewinnt-young-director-award-in-cannes/
Rolf thanks a lot all his fans for the kind letters he has received and sends his best regards for the upcoming year!
Dec 18, 2011- Rolf was again very busy this year, working quite a bit on various television programs. Amongst other parts, he played a main role for the German broadcast station ARD. He played a tattooed ship's cook in a film called "Queens of heart on the Elbe". (Herzdamen an der Elbe) Rolf plays a formerly down on his luck restaurant assistant who falls in love with the owner, played by fellow actress Thekla Carola Wied. The director was Thamas Nennstiel.
In the autumn he played Colonel Finckh in the film "Rommel" which was directed by Niki Stein. Colonel Finckh was involved in the assassination attempt against Hitler, on July 20th, in "Operation Valkyrie". After the failed attempt Colonel Finckh was condemned to death by Freisler and hanged, amongst many others.
The film "Infant Prodigies" which Rolf shot in 2010, was released this year and has won several awards; a.o. in Italy and in Israel. No word on when this movie might make it to the States.
His ongoing singing project, "The Winter Journey" by Schubert, has made progress and Rolf hopes that it might be available next winter.
Rolf apologizes that he didn't forward more news and pictures this year, but in addition to all his many roles this year, he also suffered an minor injury in France while shooting "Rommel". Sadly this injury escalated into three surgeries, which sucked up any free time he might have had. But he wishes all his fans a very Merry Christmas and a happy, successful New Year!
Dec 2, 2010- Rolf has been very busy, he was working on six different parts all at the same time. He just finished working on the film "Nobody is an Island" ("Niemand is eine Insel"), Rolf played a naughty journalist. The story is based on a novel, written by Johannes Mario Simmel, a famous German author.
Rolf was also one of the main characters in a mini-series called "Alpha 0.7. - The Enemy in yourself" ("Alpha 0.7 – Der Feind in Dir") It is the story of three men, who invent a brain scanner that discovers criminals, before they commit a crime. This invention brings power and wealth to a few, who are determined to keep it, going so far as to manipulate the brains of others to turn them into human weapons. The decreasing civil freedoms and increased monitoring of the public does not sit well with some young revolutionaries. The director was Marc Rensing, who became famous last year with his film "Parcour".
Rolf also shot another two part mini-series called "Family secrets" ("Familiengeheimnisse"). This film starts in Kenya, where he, his wife (Karin Boyd) and his daughter (Dennenesch Zoudè) are helping children in the slums of  Kibera in Nairobi to survive. Before his wife dies from cancer they tell their daughter that he is not really her father. The daughter flies to Berlin to find out the truth from her biological father (Hardy Krueger).
Rolf enjoyed working with this film, he got to spend time with an old fellow actor Hardy Krueger, his good friend Karin Boyd and Dennenesch Zoudè, a wonderful young German actress.
The countryside and wild animals of Kenya, which he saw the first time in his life, where of course amazing. But it was a very emotional shoot with all the millions of poor people in that area. He thinks that we really can consider ourselves lucky to be born in another part of the world.
Rolf also was in a feature film situated in the Third Reich, called "Wunderkinder" (Child Prodigies). It is the story about two Polish-Jewish child prodigies, a violinist and a pianist and their young German prodigy friend.
Stalin rules Poland and Rolf is playing Colonel Tapilin, Chief of Polish Intelligence, who is using the children for party propaganda. But when Hitler and the SS invade Poland, his character has to flee  and the children captured by a terrible SS man, played by Konstantin Wecker.
Rolf notes that the young violinist, who was played by a real child prodigy named Elin Kolev.
In closing Rolf writes that Germany has received a lot of snow and it is freezing cold! But it's all good since he really likes wintertime. In fact he like all the seasons! He wishes all his fans a very Merry Christmas and sends his kindest regards from Berlin.
Nov 5, 2010- Rolf just got home from shooting "Wunderkinder" he promises more later.
Oct 25, 2010- Rolf hopes we are all well. He and Paul Donovan recently screened the film "Blissestrasse". Rolf liked it very much, but he isn't sure where or when it will be released, however Mr. Donovan is working on that. But until then, here is a link for several stills from the film which were taken by Stefan Mohn.
He send all his best regards from Berlin.
May 2, 2010- Rolf is still having fun shooting a film with Iris Berben.
Last week he was asked to do a charity event for "A Heart For Children." (Ein Herz fuer Kinder) He was asked to join 2000 men kicking a football from Hamburg to South Africa for the world champion chip. So he got to kick the ball for a little while, be interviewed, and get this lovely picture taken. Nice knees ya got there Rolf!
Rolf sent received a new picture from the producer of "The Bible Code", (Der Bibelcode) where he again played a priest.
He says spring has arrived in Berlin, so it is not that freezing cold anymore and he hope we are all doing fine.
April 5, 2010 - Rolf hopes we all had a Happy Easter. He has just returned from a trip thru Germany where he visited friends and his father. His dad turned 86 this last February and is still going strong. Yea dad!
Before he left on his tour he shot an episode of a famous German series called "The Old Man" with Ulrich Noethen. ("Der Alte")
Now that he is back he is preparing for a new role, he will be playing an evil journalist with Iris Berben, in a film directed by Carlo Rola.
March 5, 2010 - Rolf has been very busy lately. In late February he attended the 60th Anniversary Berlinale. (Berlin International Film Festival) He has also been shooting pictures for the cover of his 'Winter Journey' CD project. Have I seen the pictures? Yes I have, but you can't because they are not ready for prime time. Butt when the project is closer to completion I will post a few. He is thinking about doing an English version of 'Winter Journey' also, so that will be great for us.

While fellow thespian Michael McManus is still in Berlin, Rolf reports that Paul Donovan has returned to Canada, where he is editing 'Blissestrasse'. Donovan is expected to be back in Germany come April, so perhaps then we will have word on when and where we can expect to see Rolf's part in this movie.

What else? Not much, they had lots of late snow also, but it is gone now and while cold, Spring is in the air in Rolf-land.
January 31, 2010 - On the home front, literally, Rolf writes that his remodel in Italy has hit a snag and he had to get a different architect and contractor.
On the work front he has spent several weeks in a sound studio playing and singing various songs for a project called "The Winter Journey" by Schubert. He says the songs are incredible and that they want to use an orchestra to make something new with them so that even younger people will like to listen them. He said that they are sounding very modern and incredible, but that it will take another another two years to finish the project.
January 10, 2010 - Since he doesn't have to shovel it, Rolf is thrilled with the huge amount of snow Berlin is currently getting. He is enjoying the weather and loves winter time!
Rolf is scheduled to leave soon for Italy to meet with an architect about some changes he wants done to a house he bought about five years ago. The house is from the 15th century and of course it is going to be a bit of a money pit. As houses often are. Apparently the aim is to get the house fixed enough this year to actually live in. Hummmm, I bet Italy doesn't get the winters that Berlin does...... (Ed. Note: Rolf writes - You were wrong, Madame! This year it (Italy) was as cold and (had) as much snow than we had in Berlin. It was incredible!)
News Bio Links Contact Picture Gallery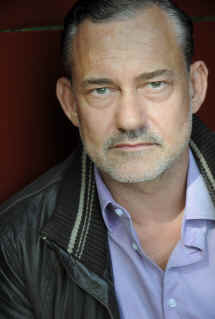 Rolf Kanies is a German born actor who has been interested in performing since childhood.  He studied acting at the Westphalian Actor`s School, Bochum and the Academy of Fine Arts, Berlin. He began his career on the stage and has since had theater engagements all across Europe . His various stage roles included Hamlet, Faust, Romeo, Mercutio and Biff, all while traveling from Germany to Austria, Switzerland, and even over the channel to the Garsington Opera Festival in Oxford, England. He has also played main parts in several musicals.
In 1998 Rolf decided to start working in cinema and television and accepted an offer by director Christoph Schrewe to act in an international television series called Lexx.  He flew to Canada and was cast as Priest in an episode called 'The Battle'. The next year Lexx producer, Paul Donovan, invited Rolf to return to play a parody of President George H. Bush, but again as Reginald J. Priest, a continuation of his previous season's character. In between shooting the fourth season of Lexx, he worked on several films in Germany and played Adolf Hitler in the American Starz! Picture production of 'Joe and Max', with Till Schweiger and Peta Wilson.
Since then Rolf has been all over the globe. In 2005 he played General Hans Krebs in a Oscar Nominated feature film called 'The Downfall' directed by Oliver Hirschbiegel. He has been in numerous German and International productions including the award winning 'A Woman In Berlin', directed by Max Faerberboeck and the 2008 film 'The Countess' which is scheduled for a 2010 early spring release in the United States.
News Bio Links Contact Picture Gallery
<![if !supportLineBreakNewLine]>
<![endif]>
Links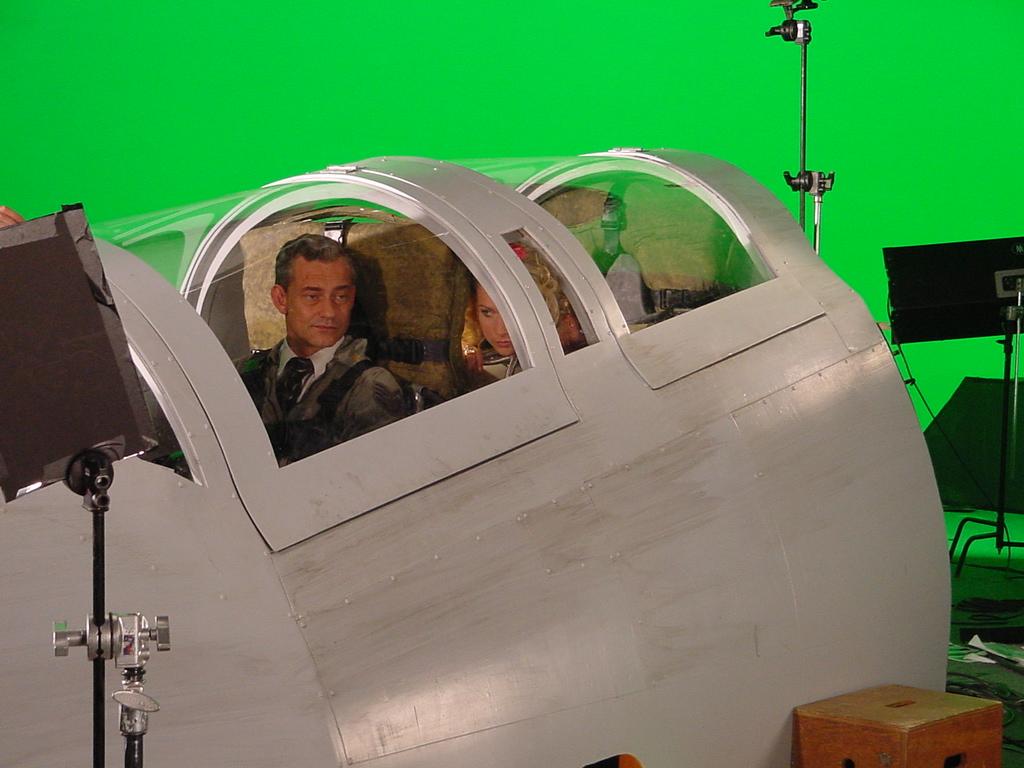 Rolf Kanies Agency Information
Fitz + Skoglund Agents
Rolf's Listing on the Internet Movie Data Base
Fourteen Minute Video of several of Rolf's Roles
German Version of Rolf's Wikipedia Page
English Version of Rolf's Wikipedia Page
An interview by thefrey for Sadgeezer.com - January 2002.
Transcript from a Sadgeezer.com Sponsered chat February 2002
News Bio Links Contact Picture Gallery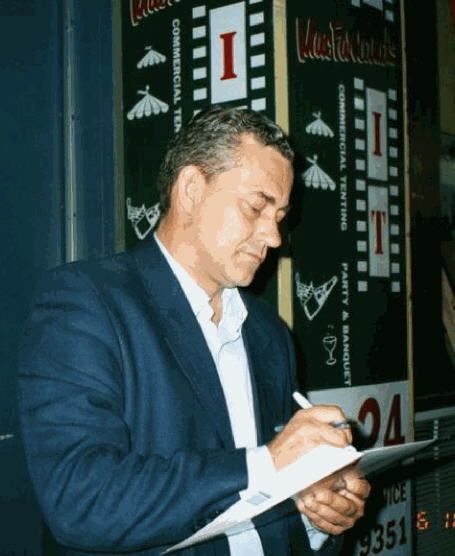 https://www.facebook.com/rolfkanies.official
News Bio Links Contact Picture Gallery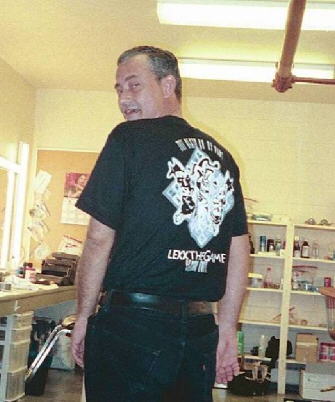 Problems with this web site? Please email me.